At What Age Is Plastic Surgery Appropriate?
As many of you know the Kardashian/Jenner family has been in the media more than usual lately, if that is even possible, regarding their use of plastic surgery. We have all heard about Bruce/Caitlyn Jenner and his plastic surgery quest to become a woman; however, the cameras are now being turned to the youngest family member Kylie Jenner. When asked about the obvious enhancements to her lips she explained the change was caused by sticking her lips inside soda bottles, causing them to swell, giving an enhanced lip appearance. This ridiculous (and inaccurate) form of treatment quickly spread throughout the social media sphere causing many uninformed viewers to attempt their own "soda bottle lip enhancement", some of which received injuries and even hospitalization as a result of their attempts. After increasing skepticism of the young 17-year old's claim, she admitted her enhanced lips were in fact, a result of temporary injectable dermal fillers.
As a result, the question of "when is plastic surgery appropriate?" (or in Kylie Jenner's case, non-surgical enhancements) becomes a hot topic for debate. "I always tell my patients that the decision to have plastic surgery is not one that should be taken lightly," says Dr. Greenwald. "Whether they are considering a breast augmentation, facelift or non-surgical treatments such as Botox, Juvederm or Voluma, each patient must consider the risks, benefits, and alternatives before moving forward with their treatment. Furthermore, it is my responsibility as their plastic surgeon to provide honest feedback and even deny treatment in some patients who I don't feel are appropriate candidates."
For younger patients, appropriate plastic surgery procedures include, breast reduction, rhinoplasty, otoplasty (ear pinning) and in some instances, breast augmentation for chest wall deformalaties/abnormalities. When considering plastic surgery for minors and young adults, the following questions should be asked?
1) Has my body fully developed?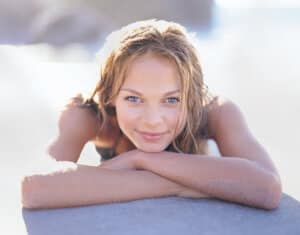 Of course as we grow and age our body continues to change, however, it is important to make sure that you are not hindering growth. Most doctors will tell you that your body is not fully developed until the age of 18. Breasts will continue to grow and facial features will continue to change, so it's important to wait until your body reached full maturity. Some doctors, like that of Kylie Jenner, will treat patients under 18 with parental consent.
2) Can I afford it?
Luckily these days we have many options for paying for our procedures- cash, check, all major credit cards and even great interest free or low interest medical financing companies such as Care Credit. However, you want to make sure that the financial burden whether it be $500 or $5000 is realistic for you to manage.
3) Do I have the time to recover?
Younger patients often don't realize how important taking the necessary time to recover can be to maximize the final result. Depending on the procedure you could need anywhere from 3 days to 2 weeks of down time. It may also be necessary to have help or assistance for a portion of that time. "It is very important to take it easy and listen to your body after surgery, it is a big investment, and should be cared for as such" says Dr. Greenwald.
4) Is my plastic surgeon board certified?
Safety is the number one priority when choosing to undergo surgery. Many of the horror stories that you hear about plastic surgery gone wrong are attributed to patients choosing non board-certified plastic surgeons who have not received the proper education and training to properly perform these treatments and procedures. Do your homework and ensure you are in the best hands possible.
With the popularity of plastic surgery showing no signs of slowing down and the increase of social media as a means to reach a wide audience, it is important for the public to understand fact from fiction and put their trust in the right doctor.