Breast Lift With Implants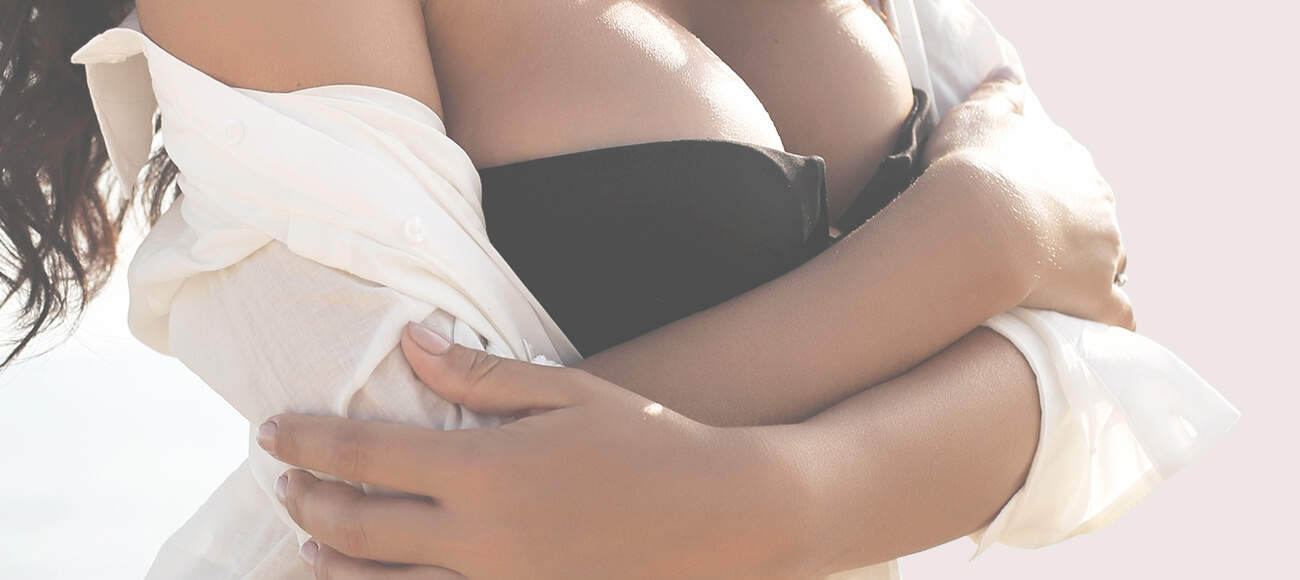 Breast Lift with Implants in New York City & Westchester County
Manhattan, Putnam County, & Carmel, NY
What Breast Lift With Implants Improves
Countless women turn to Manhattan plastic surgeon Joshua A. Greenwald, MD, FACS, to correct the appearance of small, sagging breasts. Breast ptosis (sagging) can occur due to a number of factors, including the natural aging process, massive weight fluctuations, pregnancy and / or breastfeeding. In addition, any of these factors, but especially breastfeeding, can also cause the breasts to decrease in size. Although mastopexy, or breast lift surgery, by itself improves the look of sagging breasts, adjunct breast augmentation with breast implants is often necessary to restore or augment the volume of small breasts. For these reasons, the New York City breast surgeon performs combination breast lift and augmentation (i.e., mastopexy-augmentation) with saline or silicone breast implants. This combination procedure is intended to:
Lift breasts to a higher position on the chest
Improve the look of downward-pointing nipples, raising them to a higher position on the breast
Reduce the size of enlarged areolas and move them up on the breast, as needed
Restore or enhance breast volume
Provide a rounder breast shape
Video: Testimonials for Dr. Joshua Greenwald
Hear from one of Dr. Greenwald's many satisfied patients about the experience at his state-of-the-art plastic surgery practice in Manhattan.
Who Is an Appropriate Candidate?
Women considering breast lift with implants should schedule a consultation with a board-certified plastic surgeon such as Dr. Greenwald to find out if they are suitable candidates for the combination breast lift and augmentation procedure. Typically, however, appropriate candidates include individuals who:


Long for breasts that are located higher up on the chest wall
Wish to reduce the size of their areolas
Long to correct the look of nipples that point to the ground
Are frustrated with excess skin in the breast area
Have a sound body image in general, but are concerned with specific aspects of their breasts
Are in good mental and physical health overall
Have reasonable expectations regarding breast lift and augmentation results, meaning they seek aesthetic improvement instead of perfection
Have made the decision to undergo breast lift surgery with implants of their own accord
Are not nursing (Women must wait 12 weeks after they have stopped breastfeeding to have breast surgery, so the normal size and positioning of their breasts can be identified.)
Incision Options
When treating patients seeking breast lift with implants in Manhattan, other areas of New York City, Westchester County and the surrounding area, Dr. Greenwald offers the following incision options: periareolar incisions, vertical incisions and inframammary incisions.
During consultation, Dr. Greenwald examines the patient's physique and asks about her cosmetic desires before suggesting a surgical technique that will be meet her needs. The chosen surgical technique dictates which incision options are needed. Sometimes, multiple incisions are required to attain the best results.
With conventional breast lift surgery, Dr. Greenwald creates a periareolar incision around the border of the areola (the more darkly pigmented skin encircling the nipple), a vertical incision that runs from the bottom edge of the areola to the breast fold and an inframammary incision that extends horizontally, beneath the breast crease.
With short scar mastopexy, the Manhattan breast surgeon utilizes a periareolar incision as well as a vertical incision (extending from the lower border of the areola to the breast fold).
With periareolar breast lift, he creates a single incision around the circumference of each areola
Note: Including breast implants in breast lift surgery does not require additional incisions, other than the ones required for mastopexy.
The Combination Breast Lift and Augmentation Procedure
Combination breast lift and augmentation surgery with implants is an outpatient procedure; it is performed under general anesthesia to make sure that patients are comfortable throughout the entire procedure. During the procedure, a submuscular pocket is created and the implant is inserted into the pocket. After implant insertion, the breast is lifted so that it is raised and centered in relation to the breast implant. If the areola is too large in relation to the new breast shape and position, Dr. Greenwald reduces the size of it. Finally, Dr. Greenwald closes the incision with stitches and dresses the treated area with bandages and a surgical bra on top, to provide added support.
Recovering From Breast Lift Surgery with Implants
Prior to the day of surgery, Dr. Greenwald furnishes his patients with instructions regarding how to care for their breasts before and after surgery. After undergoing breast lift surgery with implants with Dr. Greenwald:
A majority of women are able to resume their daily activities within days of the procedure.
Many patients require a modest amount of pain medication or are able to forgo pain medication completely.
Most patients experience no bruising or mild bruising.
Certain women experience changes in breast and nipple sensation. These changes may be temporary or permanent and may include pain, soreness, tenderness, a tingling sensation or total numbness. In the majority of cases, nipple sensation returns to normal over time.
Patients are allowed to resume their normal exercise routine three weeks following surgery.
Sleeping in a sports bra for three months after surgery is recommended.
Note: The aesthetic results of breast lift surgery with implants are immediately visible for some patients. However, other patients may require up to eight weeks for the results to become fully realized, as this is the amount of time that it can take for breast implants to settle into a more natural position.
Preoperative
Patient's preoperative testing and mammogram (if needed) is reviewed. Patient will have filled prescriptions for pain medications, antibiotics and muscle relaxants. Meet with Dr. Greenwald, our anesthesiologist and nurses.
Day of
Surgery
A primary augmentation takes between 45 and 60 minutes. Patient receives an intravenous antibiotic prior to beginning procedure.
Recovery
Room
Approximately 1 hour - you must be sent home with a responsible adult who should plan on spending the night with you.
After Surgery
Patients are sent home in a surgical bra with incisions covered with steristrips and gauze. No heavy lifting or exercising. ABLE TO SHOWER 36 hours after surgery after removing the gauze but leaving the steristrips in place (usually the night after)
Postoperative
Visit #1
Typically 5-7 days after surgery. Any sutures requiring removal are removed. Steristrips are replaced on the incisions as needed. Continue to wear a soft bra or underwire bra depending on implant position. Begin medial massage of implants.
Postoperative
Visit #2
Typically 18-21 days after surgery. Incisions are checked. Silicone scar therapy is begun. Able to return to gym. Typically underwire bra during day and soft supportive bra at night. Begin medial and superior-inferior massage of implants.
Postoperative
Visit #3
Patient's are typically seen 3-4 months after surgery and then yearly.
How Much Does Breast Lift Surgery With Implants Cost?
The main costs associated with breast lift surgery with implants include: the cosmetic surgeon's fee, the anesthesiologist's fee, the operating room cost and the breast implants cost. However, the total cost of the combination lift and augmentation procedure can vary, depending on how complex the patient's situation is, her aesthetic needs and desires, and the type of implants chosen.
If you live in NYC, Westchester County or Fairfield County, including Greenwich or Stamford, CT, and would like more information about combining breast lift with implants, schedule a consultation. Contact the practice of Dr. Greenwald by calling (914) 421-0113 today.