Can You Remove Fat Without Surgery?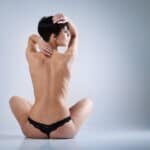 Are you bothered by the appearance of fat bulges that don't seem to go away no matter how much you diet and exercise? Do you wish to slim your physique but are not ready to undergo a surgical procedure like liposuction? If the answer to one or both of these questions is yes, then New York City plastic surgeon Dr. Joshua has good news. CoolSculpting is an innovative cosmetic procedure that uses fat freezing technology to eliminate pockets of fat around the body without surgery, anesthesia, incisions or downtime.
Learn how CoolSculpting removes fat without surgery in this blog post.
About CoolSculpting
CoolSculpting is the first FDA approved non-surgical treatment that uses controlled cooling technology to crystalize (i.e., freeze) targeted fat cells. The body then naturally eliminates these fat cells over time. While some of the slimming effects of CoolSculpting become visible a few weeks after treatment, it may take a few months for the final results to appear. Following treatment, the treated area will look slimmer and firmer.
Treatment can be completed in approximately 30 minutes. First, a protective gel will be applied to the targeted area. Next, the fat bulges will be positioned in between two cooling panels, which will work to cool the treatment area until the targeted fat cells reach freezing temperature. This process is repeated until all targeted fat cells are crystalized.
CoolSculpting can be used to remove pockets of fat throughout the body including on the abdomen, back, thighs, and upper arms.
Does Treatment Hurt?
CoolSculpting is painless and comfortable; patients only feel a slight cooling sensation and are free to read, listen to music or even use a laptop during treatment.
What Happens After Treatment?
Unlike liposuction and other surgical body contouring procedures, CoolSculpting does not involve downtime. Following your treatment, you will be free to return to work and resume other normal activities. You may notice some redness, numbness or bruising in the treatment area, but this should subside quickly.
How Many Treatment Sessions Will I Need?
The number of treatment sessions you will need depends on the desired result. Dr. Greenwald can recommend a treatment plan that achieves your specific goals following a personal consultation.
To learn more about CoolSculpting, schedule an in-office consultation with Dr. Greenwald. Contact our New York City practice by calling or emailing us today.