Coolsculpting vs. Liposuction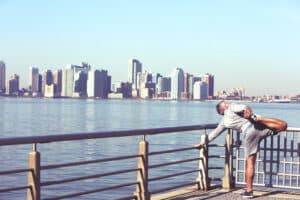 Do you have stubborn body fat that you just can't lose despite your healthy lifestyle? Perhaps you've considered surgical intervention such as liposuction or maybe you are curious about non-invasive options but just aren't sure which treatments actually work? Today we are fortunate to have great treatment options that are both safe and effective.
Although it has been on the market for a few years now, Coolsculpting is still not a widely recognized procedure. Coolsculpting is an FDA-approved, non-surgical technology which utilizes a controlled cooling process to eliminate stubborn fat and achieve smoother contours – all with convenient in-office treatments requiring no needles and no anesthesia. Patients who want to address their problem areas but do not want the recovery and downtime of surgery are now wondering if Coolsculpting is BETTER than traditional liposuction. Talented New York City plastic surgeon Dr. Greenwald acknowledges "when discussing body contouring options, many of my patients will ask me about Coolsculpting vs. liposuction, such as SmartLipo and want to know which is the most effective treatment."
Liposuction and Coolsculpting have the same goal of removing fat cells. Think of your fat cells like balloons, gaining weight is similar to blowing air in the balloons and when you lose weight you are letting air out. The only way to keep the fat from returning is to remove the fat cells entirely – which can be achieved both through Coolsculpting or liposuction. The best way to understand which treatment is ideal for patients is by comparing and contrasting the two procedures.
Liposuction is a surgery that involves suctioning and removing fat through a small cannula inserted underneath the skin of the treated area. In most cases, liposuction requires a trip to the operating room, small incisions and on average 3-5 days of recovery time. "The benefit of liposuction is patients typically achieve maximum results after one treatment" says Dr. Greenwald. In contrast, Coolsculpting typically requires more than one treatment cycle over a few months to achieve optimal results. However, Coolsculpting can be performed in-office, without surgery and with no downtime – patients receive treatments on their lunch break and are able to return to work the same day.
What about the cost? Patients often think Coolsculpting is a less expensive alternative because it non-surgical, however this may not be the case. "For patients that have larger treatment areas, we may recommend multiple Coolsculpting cycles to achieve the desired outcome," says Dr. Greenwald. In many cases, the additional Coolsculpting treatments may be equal or in some cases more expensive than liposuction surgery. So for patients considering body contouring options, they should think less about the cost differential between liposuction and Coolsculpting and instead focus on which treatment path is best for their lifestyle. We recommend patients contact their practice and meet with the trained professionals who will help determine the best treatment option to meet their individual needs.
For more information on Coolsculpting, contact our office(914) 421-0113 and ask to speak to a patient coordinator