Dr. Greenwald Attends Prestigious Mentor LEAD Conference in Los Angeles, Calif.
New York City plastic surgeon Dr. Joshua Greenwald recently attended the Mentor Corporation's 2013 LEAD Conference in Los Angeles, Calif. He was one of an elite group of only 35 plastic surgeons in the nation to be invited to the prestigious event.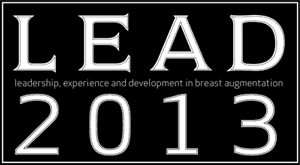 Only the top breast augmentation surgeons in the United States are asked to attend the symposium on Leadership, Experience and Development (LEAD) in breast augmentation. The guests selected to attend the LEAD symposium meet the following criteria:
Expansive expertise in both initial and revision breast augmentation surgery
Outstanding professional reputation in the field
Of all the plastic surgery practices in the United States, theirs treat the highest volume of patients.
In reference to last year's LEAD conference, Dr. Greenwald said, "It was a real honor to be chosen to attend the LEAD conference given the many incredible plastic surgeons across the country. It was a fascinating meeting and an excellent forum to discuss breast augmentation and revisions of undesirable results following breast implant surgery."
The esteemed surgeons who are invited to attend the LEAD annual conference serve as advisors on the Physician Advisory Board for the Mentor Corporation. Mentor Worldwide, LLC, is a global leader in breast implant manufacturing. As part of the LEAD Council, the board-certified plastic surgeons meet each year to discuss advancements in breast enhancement and reconstructive surgery as well as their own experiences in the industry with the Mentor Corporation. In doing so, Mentor Worldwide, LLC, can better understand the needs and desires of breast implant consumers, and adjust its product line and consumer education efforts appropriately.
About the Practice of Joshua Greenwald, MD, FACS
Dr. Greenwald offers surgical breast augmentation, revision breast enhancement and breast reconstructive surgery, to help women feel more feminine and self-confident. The Manhattan plastic surgeon stays abreast of innovations in plastic surgery, especially breast augmentation, so that he can deliver exceptional, natural-looking aesthetic results.
He is also an expert provider of abdominoplasty, facelift and rhinoplasty, as well as other surgical procedures. To schedule a personal consultation with Dr. Greenwald to learn more about your many cosmetic surgery or nonsurgical treatment options, please contact his practice by calling (914) 421-0113.