Did You Know Breast Implants Have Serial Numbers?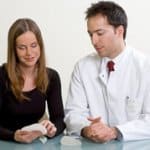 Did you know that every breast implant has a distinct serial number associated with it? Why? By providing unique tracking information with their breast implants, manufacturers can contact the patients who purchased their implants if concerns over a batch of implants or individual implants happen to arise in the future.
Why the FDA Requires U.S. Manufacturers to Provide Serial Numbers
The U.S. Food and Drug Administration (FDA) requires that all breast implant manufacturers include identification information with each implant. This is so the vast number of implants produced can be tracked, helping to monitor patients' long-term safety.
Every breast implant has a lot number and a serial number associated with it. The lot number reflects the batch of breast implants (including the filling material) produced at a certain time. In addition to the lot number, a unique serial number is also associated with each breast implant. This information is either imprinted directly onto the breast implant or printed on the box in which the implant arrives, as well as on a tracking label inside the sealed package. After breast augmentation surgery, the cosmetic surgeon's office is responsible for submitting the proper documents to the manufacturer, which include the name of the patient, additional identification information, and the lot number and the serial number of the implant. The manufacturer compiles this information into a data registry that can be accessed in order to track down and inform the patient of a safety concern or product recall.
Another Way Implant Serial Numbers Have Been Useful
Although looking up someone's dental records has long been an effective way to identify certain deceased individuals that are unidentifiable through other means, police can now also use breast implants to help identify individuals. In 2013, police in China were able to solve a homicide case when they successfully identified the victim involved — by her breast implants. Police who were investigating the case noticed the unique serial code on the woman's exposed silicone breast implant. They used it to track down the manufacturer of the product, who was then able to supply the name of the patient who purchased the implants.
Although both these scenarios in which serial numbers might be helpful may appear grim, it is extremely rare for an implant manufacturer to have concerns about their products. They take every precaution possible to minimize the chance of implant-related complications. It is also extremely rare for authorities to turn to implant serial numbers to help identify an individual.
To schedule a consultation with NYC breast augmentation surgeon Dr. Greenwald to learn more about your breast implant options, please contact his practice by calling (914) 421-0113.