How Long Do Tummy Tuck Results Last?
New York City plastic surgery provider Dr. Joshua Greenwald is often sought out for his expertise in abdominoplasty, or "tummy tuck" surgery. Tummy tuck surgery is an effective way for certain patients to achieve a firmer, flatter abdominal profile.
One of the questions that Dr. Greenwald's tummy tuck patients often have is, "How long do results from tummy tuck last?" The simple answer is that tummy tuck results are intended to be permanent. However, certain occurrences may detract from the aesthetic results of tummy tuck surgery. To find out how to ensure long-lasting tummy tuck results, read on.
Tummy Tuck 101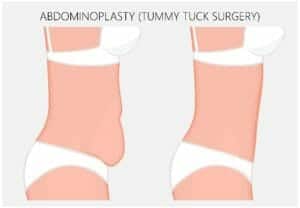 To learn how to ensure long-lasting results from tummy tuck surgery, it is important to understand the basics behind tummy tuck surgery first.
Often, the natural aging process, major weight loss or pregnancy can cause abdominal skin to lose its elasticity, leaving many people with loose, sagging skin throughout the midsection. Pregnancy can also cause abdominal muscles to weaken severely or even separate. Fortunately, Dr. Greenwald provides tummy tuck surgery to correct these issues. He can also perform liposuction during tummy tuck surgery to remove stubborn pockets of fat from the abdominal area.
To begin tummy tuck, Dr. Greenwald first makes a horizontal incision in the pubic area that extends from hipbone to hipbone in an area that can be concealed by an underwear or bikini line. Dr. Greenwald then removes drooping excess skin before repairing the stomach muscles with internal sutures. If liposuction is needed, the New York City plastic surgeon performs this step next. Dr. Greenwald then re-drapes the remaining skin and repositions the navel to align with the new abdominal contour. He finished the abdominoplasty procedure by closing the incision with sutures and applying a bandage to the treated area. In general, tummy tuck surgery takes approximately 1-2 hours.
Maintaining Your Results After a Tummy Tuck
Tummy tuck results are considered permanent in that the skin and fat cells that Dr. Greenwald removes during the procedure cannot grow back. Likewise, any internal sutures that he places to repair stomach muscles are designed to remain in place indefinitely.
However, significant weight fluctuations can cause the remaining abdominal skin to lose additional elasticity and start to sag again. Also, substantial weight gain can cause remaining fat cells in both the treated area and other areas to grow larger, and it can even cause the body to produce new fat cells in these areas. Pregnancy after tummy tuck can also have negative effects on the treated area, including causing further damage to stomach muscles.
Thus, to ensure that your aesthetic results from tummy tuck are long lasting, it is crucial to be at a stable weight (that you feel you can maintain after surgery) prior to undergoing tummy tuck surgery. If you are a woman, you should wait until you are finished having children before pursuing tummy tuck surgery. By maintaining a stable weight, following a healthy diet, exercising consistently and not smoking, you can ensure your aesthetic results from tummy tuck are long lasting.