This Mother's Day, Treat Your Mom to Mommy Makeover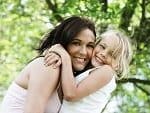 Are you wondering what to get your mom or the mother in your life for Mother's Day? If so, consider treating her to mommy makeover cosmetic surgery. Mommy makeover surgery addresses the common aesthetic concerns that many mothers have after pregnancy and / or breastfeeding. This year, give your mother or the mother of your children something meaningful that she will appreciate forever.
What Mommy Makeover Addresses
Mommy makeover surgery is not a single surgical procedure. Rather, it is a combination of cosmetic surgery procedures designed to improve the areas of the body that are often affected by motherhood.
Pregnancy can take a toll on the abdomen, greatly weakening the abdominal muscles or even causing them to separate. When this happens, no amount of stomach exercises can repair the damaged muscles. In addition, pregnancy can often leave women with sagging, loose abdominal skin that has lost its elastic nature as a result of the extreme weight fluctuation.
To help correct these concerns, mommy makeover usually includes abdominoplasty, or "tummy tuck" surgery. During tummy tuck, Westchester plastic surgeon Dr. Greenwald eliminates the excess skin and repairs the stomach muscles, suturing them into place with internal stitches before re-draping the remaining skin over the newly flatter, firmer stomach contour. Patients often achieve "six-pack abs" after tummy tuck.
Breastfeeding can cause the breasts to sag or lose volume. Nursing can also cause the nipples to become enlarged or point down, toward the ground. After nursing, the breasts can look saggy or deflated like a pancake. For these reasons, mommy makeover also typically involves breast surgery, whether breast lift, breast augmentation with implants or both.
The best part about mommy makeover surgery is that is can be customized to meet the unique needs of the mom in your life. For instance, some women choose to include Brazilian butt lift surgery in their mommy makeover.
This Mother's Day, treat the mother in your life to something she really wants — just be sure she has expressed interest in cosmetic surgery, as the decision to undergo surgical treatment is a personal one.
To arrange for your mother or special someone to meet with Dr. Greenwald to learn more about her options, please contact his New York City plastic surgery practice by calling (914) 421-0113.