How to Pick the Best Breast Implant Size for Your Figure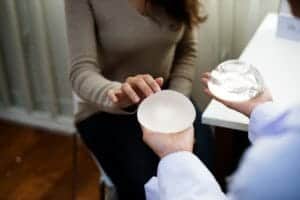 Once you've decided to get a breast augmentation procedure, there are a number of choices you'll need to make. Between choosing the breast implant size and type, implant placement method, and incision approach, you'll need to spend some time thinking about exactly what you what your new breasts to look like.
Fortunately, your plastic surgeon is a great resource for help with these decisions. In this post, plastic surgery specialist Dr. Joshua Greenwald gives some advice on an important decision for your breast augmentation procedure: how to pick the best breast implant size for your figure.
Visualize Your Ideal Breast Size
There are a number of methods for visualizing how your breasts will look with various sizes of implants. Some common methods are:
Reviewing before-and-after pictures of women who have undergone breast augmentation surgery. Look for women with body types that are similar to yours and who have achieved the results you want.
Computer simulations that show how you will look with various sizes and shapes of implants.
Actually "trying on" a variety of implant sizes in your cosmetic surgeon's office, using a method such as the Mentor® Volume Sizing System.
Each method of visualization has its own benefits. For example, actually trying the implants on will allow you to appreciate the weight of the implant. Take your time and use several different methods to help you reach your decision.
Get Some Firsthand Advice
Talking to women who have had breast implant surgery can lead to some important insights. You may get feedback that you hadn't thought about previously, such as how their breast implants impacted shopping for clothes or exercising.
Your plastic surgeon can also relate stories to you about how women felt about their implant size choice after surgery. After spending many years performing breast augmentation procedures, your plastic surgeon has seen how many patients adapt to their new breasts, whether they opted for a larger or smaller implant size.
Remember: It's Your Body
Your body size and shape will impact your implant choice in several ways. If you have a smaller figure, you may not want to carry the weight of a larger implant size. A smaller implant may also match your body's proportions better, while larger women may find a bigger implant size to be more suitable for their figures.
Ultimately, you will have to make the final decision when choosing a breast implant size and shape. Both your personal preferences and your unique figure will play a role in selecting the perfect size breast implants and deciding how you want your new body to look.
Need Personal Advice about Your Breast Implant Size?
The best way to get customized advice about choosing your breast implant size is by having an in-person consultation with a plastic surgeon. Dr. Joshua Greenwald can listen to your goals at his New York City plastic surgery office and help you make the right choice. Please call or email our office to schedule your consultation.