Things that Might Surprise You about Liposuction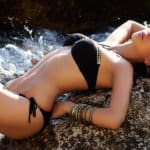 Liposuction is a popular procedure that involves the removal of small, localized deposits of fatty tissue. If you have certain problems area that won't respond to diet and exercise, liposuction may be a great choice for finally getting the results you want.
There are many misconceptions, however, about what liposuction can and cannot achieve. In this post, plastic surgeon Dr. Joshua Greenwald discusses some things that might surprise you about liposuction.
Liposuction Doesn't Remove Loose Skin
While laser liposuction techniques can be used to both remove fat and tighten skin, liposuction does not actually involve the removal of loose skin. If you have loose skin as a result of dramatic weight loss or pregnancy, liposuction alone may not be enough to firm and tighten your skin.
In these circumstances, you be may a good candidate for a lifting procedure such as a body lift, tummy tuck, or thigh lift. These procedures can be performed in conjunction with liposuction, including the popular tummy tuck/liposuction combo.
Many Different Areas Can Be Treated with Liposuction
You may associate liposuction with the removal of fatty tissue from the abdominal area. However, liposuction can be done on many different areas throughout the body that have excess fat deposits.
The neck, chin, buttocks, thighs, upper arms, and upper back are all areas that can be contoured using liposuction. If you have a problem area somewhere on your body, there's a good chance liposuction can treat it!
Liposuction is Not a Weight Loss Surgery
Some people mistakenly associate liposuction with weight loss surgery. Liposuction is a body contouring procedure, not a weight loss treatment. You will not lose a significant amount of weight with liposuction.
You should be at or near your ideal weight before getting liposuction. After you recover from your procedure, you should continue to exercise and eat nutritious foods to maintain your healthy weight.
The Results of Liposuction Are Permanent
Liposuction involves the removal of targeted fat cells from your body. Once the fat cells are removed, they are gone forever and can't regenerate.
However, this doesn't mean that you can't gain weight if you don't practice healthy habits. If you follow a good diet and exercise program, you can preserve the results of your liposuction for a very long time.
Learn More About Liposuction
Find out whether liposuction is right for you at a personal consultation with Dr. Joshua Greenwald. Have all your questions answered at our NYC plastic surgery practice by calling or emailing us to schedule your consultation.