Why Is "Brotox" So Popular?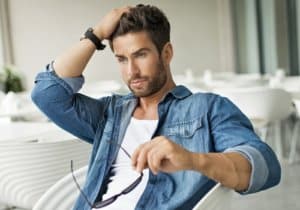 Reports from national plastic surgery organizations claim that more men than ever are opting to minimize facial lines and wrinkles with Botox. This trend, which certain plastic surgeons are referring to as "Brotox," is something that Dr. Joshua Greenwald has noticed at his own New York City plastic surgery practice. Here, he explains his thoughts about why more men are seeking out Botox.
To Look and Feel Their Best
Women aren't the only ones that want to look and feel great. Many men want to look attractive for personal and professional reasons. A youthful look is important to men that want to retain a competitive edge in the workplace and not be passed over for jobs, raises or promotions because they look older than they are. Maintaining smooth, youthful looking skin is also helpful to men that are re-entering the dating scene after a divorce or the death of a spouse.
Great Results without Surgery
Botox is ideal for the man in his late 20s to early 40s that is bothered by facial lines and wrinkles, but doesn't require surgical correction. Many men want to improve their appearance, but are put off by the time or financial requirements of surgical treatment. A non-surgical treatment that delivers noticeable anti-aging results quickly and cost-effectively is a perfect compromise.
Quick and Easy Treatment
Botox treatment takes about 30 minutes and does not require any recovery downtime. It can be easily scheduled during a lunch break or after work. Male patients do not have to worry about taking time off after Botox treatment or being sidelined by significant bruising or swelling. They can immediately return to the office or go about their days with very few (if any) post-operative side effects.
Temporary
Botox results are temporary, lasting about three to six months. This is an appealing option for the first-time patient that wants to see what Botox can accomplish, but doesn't want to commit to permanent results. In the rare event that a patient doesn't like his results, they should wear off within a few short months.
Learn More about Botox
Dr. Greenwald welcomes male and female patients at his NYC plastic surgery practice. To learn more about Botox or the treatment of your choice, please call or email our office today.