3 Warning Signs of Capsular Contracture with Breast Implants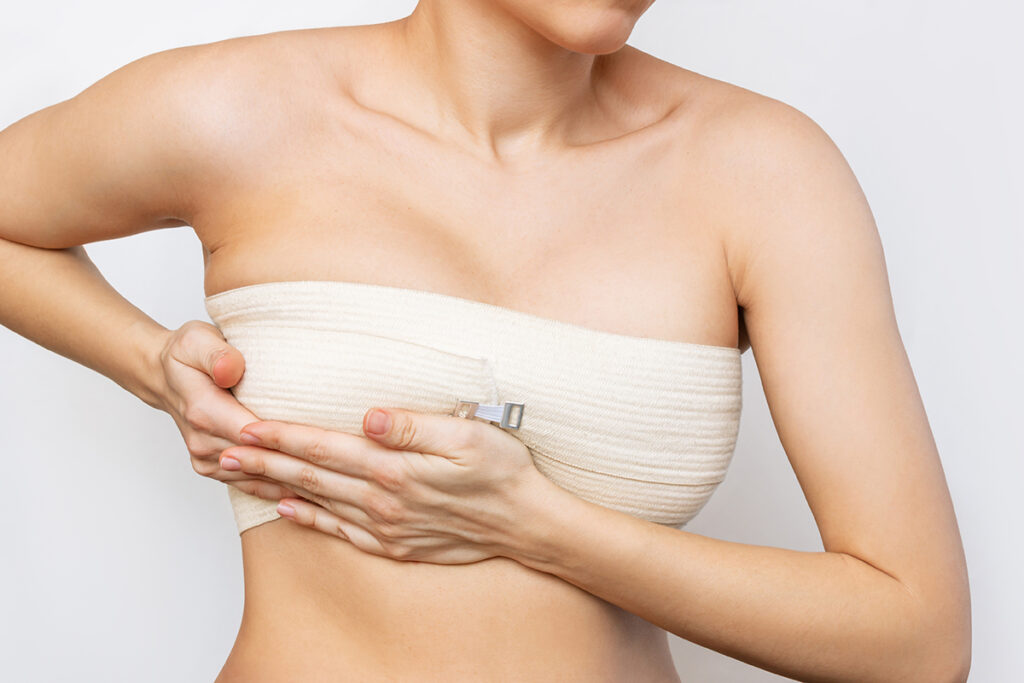 Capsular contracture is a complication of breast augmentation that happens in some women. This issue occurs when the scar tissue around the breast implants hardens and constricts around the implant, causing visible breast distortions and discomfort. While there are risk factors for capsular contracture, it often happens during the healing process with no discernible cause. Dr. Joshua Greenwald in Carmel offers medication management and breast revision surgery for capsular contracture treatment.
This implant complication can happen regardless of your plastic surgeon's skill or experience. Every surgery and body is different; some people are more prone to thicker scar tissue. These are some early warning signs of capsular contracture after breast augmentation.
1. Your Implants Sit High on Your Chest.
It's normal for breasts to "ride high" the first couple weeks after breast augmentation, but the implants should settle into their final position in the months following surgery. If your breasts remain high, you may have early stages of capsular contracture.
2. Your Breasts Feel Uncomfortable or Tight.
Some tightness and discomfort during breast augmentation recovery, but if these issues are ongoing, you should discuss your concerns with a board-certified plastic surgeon. Capsular contracture develops slowly as the collagen fibers in your breasts weave together to heal the surgical areas and compress around the implant. The early symptoms typically include tightening sensations or pain that worsens when lying on your stomach.
3. Your Breasts Look Misshapen or Unnaturally Round.
Breast implants are malleable material that distorts as scar tissue tightens around them. The added pressure can create a ball-like appearance or visible waves or ripples in the breasts.
Types of Capsular Contracture
Your body forms a scar tissue capsule around any medical implant as part of the normal healing process. The human body reacts to a foreign object by forming a barrier of scar tissue around it, which helps to keep breast implants in their desired position. However, some patients develop unusually stiff scar tissue that contracts and causes complications. Most cases of capsular contract occur within two years of breast augmentation.
Capsular contracture is broken into four grades. Grade I is asymptomatic, and grades II and III involve minor or noticeable cosmetic symptoms with a firm breast and abnormal appearance. You may have misshapen nipples and hard-appearing or overly round breasts. Grade IV capsular contracture causes breast soreness, tenderness, and pain to the touch, as well as cosmetic concerns.
Capsular Contracture Treatment
Dr. Greenwald believes capsular contracture treatment begins with preventative measures, including thorough patient screening and implants that are in proportion to the patient's body. Dr. Greenwald uses a no-touch technique with the Keller Funnel® device to reduce bacterial contamination upon implant insertion. Under-the-muscle placement decreases the risk of capsular contracture from 18% to just 4% to 8%. Dr. Greenwald also recommends massaging the implant during recovery to maintain soft tissues and limiting post-operative activities to avoid disrupting the healing process.
Capsular contracture is not dangerous to your health. Rarely, the tightening capsule may cause an implant rupture that leads to infection. Treatment for grades I and II may involve medical intervention with leukotriene inhibitors and low-dose antibiotics. Grade III and IV capsular contracture may require revision surgery to change the implant position and remove the scar capsule.
If you have concerns with your breast implants, contact Greenwald Plastic Surgery in Carmel, Harrison, and Manhattan, New York. Schedule a consultation with our board-certified plastic surgeon by calling (914) 421-0113.