Keller Funnel: What difference does it make and why is it important?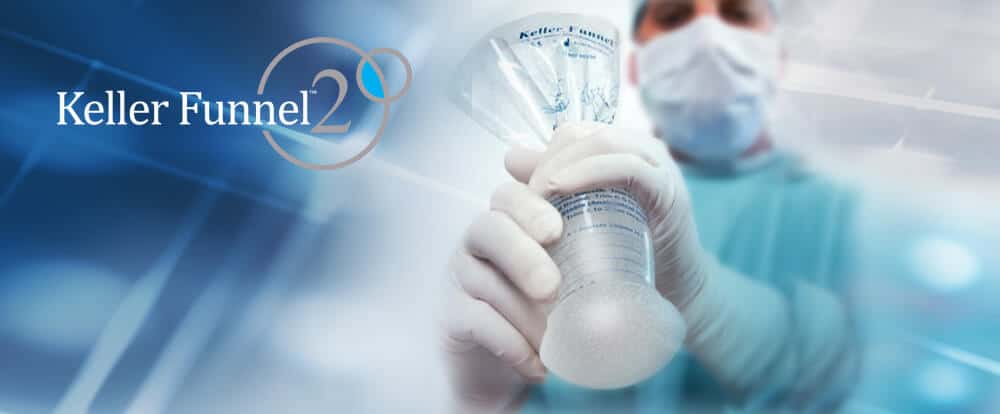 The Keller Funnel, which was invented by Dr. Kevin M. Keller and brought to market in 2009, is a surgical device that is used to assist surgeons in implanting silicone breast implants. The device can insert all silicone breast implants up to a size 800 cc, and is being used by plastic surgeons around the globe due to its enormous benefits.
How does it work? When performing your breast augmentation surgery, I begin by making incisions in the breast, and creating the implant pocket. The Keller funnel is cut along the narrow end, based on the size of the breast implant and submerged in sterile solution. The breast implant (pre-sterilized) slides into the funnel, with the tip being placed into the breast pocket. Next, I gently squeeze the funnel to move the implant through into the breast pocket – imagine the motion of a baker frosting a cake. I then repeat the technique with the other breast before discarding the Keller funnel device.
What are the advantages of this technology? The use of a Keller funnel allows for a "no touch" technique not only from a surgeon's hands, but it also restricts the implants from brushing against the patient's skin when being placed into the breast pocket. Reduced handling of breast implants greatly decreases the risk for infection. Other advantages of the Keller Funnel include the ability to decrease the breast augmentation incisions. Shorter scars equate to less trauma of the incision site reducing patients discomfort post operatively. Dr. Greenwald adds, "By using the Keller Funnel in my practice, my breast augmentation patients experience smaller incisions, shorter recovery times and less complications. I'm excited to use this device in the operating room."
Do you have further questions on the Keller Funner, breast augmentation or other plastic surgery procedures? Schedule a consultation with Dr. Joshua Greenwald today by calling (914) 421-0113.