Stats Reveal Increase in Non-Surgical Fat Reduction and Butt Shaping Procedures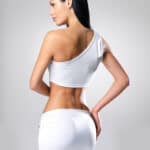 The statistics are in! According to the procedural statistical data for 2014 released this month from the American Society for Aesthetic Plastic Surgery (ASAPS), two standout stats include increases in non-surgical fat reduction and butt augmentation surgeries. The ASAPS data shows that there was a 43 percent rise in non-surgical fat reduction procedures and a whopping 86 percent increase in buttock augmentation surgeries, as compared to 2013. Why are these procedures so popular? Dr. Greenwald explains the procedures involved in these growing trends, and what you need to know if you're considering any of these procedures.
Freeze Fat Away with CoolSculpting
CoolSculpting, a non-invasive body contouring technique that freezes fat cells, is an increasingly popular, non-surgical alternative to liposuction. According to ASAPS President Dr. Michael Edwards, "Due to the technological advancement and efficacy of nonsurgical fat-reduction devices, it's not surprising that more people are opting to freeze or melt away stubborn body fat in the comfort of their surgeon's office as opposed to undergoing surgery."
The CoolSculpting procedure targets and freezes fat cells, turning them into a liquid which then gradually gets flushed from the body naturally. This procedure is often used on stubborn pockets of fat that are difficult to get rid of with diet and exercise; places such as:
love handles
muffin tops
stomach fat
back rolls
Dr. Joseph Greenwald offers the CoolSculpting procedure at his plastic surgery offices in New York City. The CoolSculpting procedure is performed on an outpatient basis, and typically lasts between one and three hours. During the procedure, a handheld vacuum is used to draw the skin in the targeted area between two cooling panels, freezing the fat cells in that area. The procedure is painless, with patients experiencing only a mild cooling sensation and some numbness. Patients typically begin to see results three weeks after treatment, with more pronounced results continuing to appear over the next two to four months.
Butt Lift and Implants for a Shapelier Backside
Voluptuous posteriors are in, a fact that is highlighted by the public idolization of bottom-laden celebrities like Kim Kardashian and Nicki Minaj. Dr. Greenwald offers a few options for patients who wish to have a firmer, rounder or lifted backside — or all three!
A fat transfer butt augmentation (also called a Brazilian Butt Lift) is a procedure where excess fat is extracted from another part of the body through liposuction, and then injected into the buttocks for a curvier posterior.
Gluteal (or buttock) implants are made of soft, solid silicone. These are typically used for patients with buttocks that appear flat, loose or sagging due to aging or weight loss. They are also used for buttocks that lack volume and appear too small for the patient's frame, or buttocks that appear asymmetrical. The implants can be inserted either intramuscularly (inside the gluteus maximus muscle) or subfascially (above the gluteus maximus muscle). Dr. Greenwald offers different gluteal implant shapes that can also be further altered to fit the patient's frame and needs.
Do you have further questions on these popular plastic surgery procedures? Schedule a consultation with Dr. Joshua Greenwald today by calling (914) 421-0113.